Google Removes Mobile-Friendly Label, Cracks Down On Interstitial Ads

Today Google announced two big changes that are coming to mobile search results: the mobile-friendly label will be removed, and starting in 2017, Google will start cracking down on websites using "intrusive" interstitial ads.
Google added the mobile-friendly label about two years. Then in 2015, Google "expanded use of mobile-friendliness as a ranking signal," which gave a nice additional boost to mobile-friendly sites, while further demoting those that weren't optimized for mobile. Recently, Google increased that ranking signal even more.
Since then, Google says that approximately 85 percent of all pages in mobile search results meet their "mobile-friendly" criteria.
"Since [2014], we've seen the ecosystem evolve and we recently found that 85% of all pages in the mobile search results now meet this criteria and show the mobile-friendly label."      
Although the mobile-friendly criteria will continue to be used a part of Google core ranking algorithm, Google has made the decision to remove the mobile-friendly label, mostly to keep search results clean and uncluttered. Site owners can still see keep tabs on their mobile optimization efforts using the Search Console mobile usability report and Google's mobile-friendly testing tool.
Another change coming in January of 2017 will target sites using intrusive interstitials. Last year Google warned site owners that as of November 1st, 2015, sites using interstitials would no longer be considered mobile-friendly, and that using interstitials could potentially hurt your organic visibility in search results.
Google provided a few examples of how interstitials may negatively impact the mobile user experience:
Showing a popup that covers the main content, either immediately after the user navigates to a page from the search results, or while they are looking through the page.
Displaying a standalone interstitial that the user has to dismiss before accessing the main content.
Using a layout where the above-the-fold portion of the page appears similar to a standalone interstitial, but the original content has been inlined underneath the fold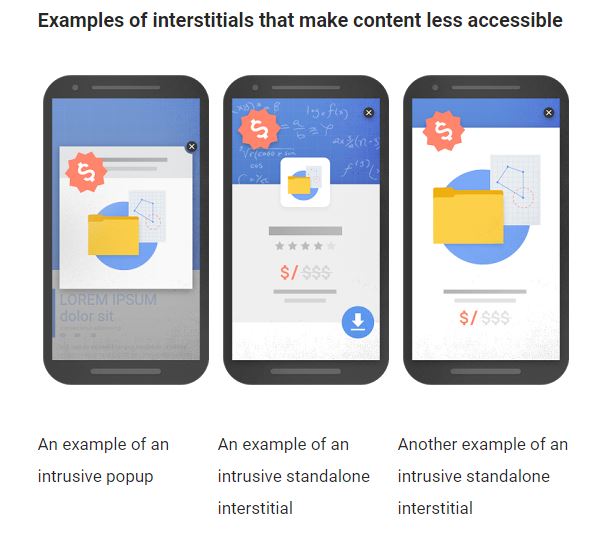 Screenshot from webmasters.googleblog.com
However, not all interstitials will be penalized. Google outlined some responsible uses, such as for cookie usage, age verification, and banner ads that don't obscure the main content on the page.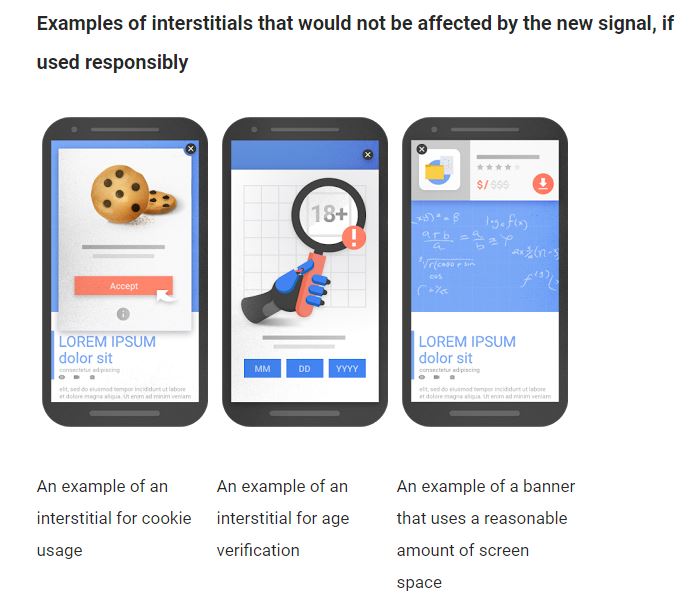 Screenshot from webmasters.googleblog.com
Google also noted that this is just one of many ranking signals that are used in their algorithm, and the intent of the search query is still a very strong signal, so some pages may still rank, despite using interstitials, as long as they provide "great, relevant content."
Update: On August 29th, Barry Schwartz reported that the interstitial penalty will be on the page level only. Similar to the mobile-friendly rankings boost, this will only impact specific page urls that use interstitial mobile ads, and not other page urls that reside on the same domain.
Here's the confirmation from Google on Twitter:
@digitalwhat the algorithm affects individual pages, not whole sites @googlewmc

— Gary Illyes (@methode) August 27, 2016