Introducing the Local 2-Pack: Google Ads Replace Top Map Listing
Update: On June 23rd, Search Engine Land confirmed that ads will indeed be coming to the local packs, however, Greg Sterling pointed out that Google's Global Product Lead for Local Ads said that the local pack ad is still in testing, and there is a possibility that the ad will be would be shown alongside 3 organic map listings,essentially making it a 4-pack.
Here's an excerpt for the post on Search Engine Land:
Turhan, who did an extensive Q&A with the audience, explained that Google was still testing, and the ultimate result might be different from what he showed. Accordingly, it's possible (though Turhan didn't say this) that there might be a Local Pack ad and three organic listings. However, that wasn't what the screen shot reflected.
At SMX Advanced, Google announced that the local packs in search results would be getting even smaller. This time they're replacing one of the three listings with an ad, leaving only two organic map positions for local businesses.
This announcement was first reported by Google My Business Top Contributor Joy Hawkins. Here's her original tweet:
Prepare for the top listing in the 3-pack on Google search to become the 2-pack + an ad! Eeekkk #LocalSEO #SMXLocal

— Joy Hawkins (@JoyanneHawkins) June 21, 2016
Joy also posted about it on Google+
Well….Google just announced at SMX that the 3-pack is going to start containing an ad soon. So instead of the 3-pack it's going to be 1-ad + 2 organic listings. Yes, the ones right on Google search (not the expanded pack). Be prepared to try to get clients in the top 2 instead of the top 3!
If you recall, in August of last year, Google shook things up when they drastically cut down the local packs from seven to three listings. This change pushed a lot of brands off the front page of Google, which cost local businesses a nice chunk of organic traffic.
There were also some other less talked about changes that rolled out with Google's new 3-pack listings. In my opinion, the most significant was changing the link structure so that when a user clicks on a local business, they're taken to a page that lists all of your closely ranked competitors. Instead of the business name linking directly to the business' website, Google added two additional links for the website and directions to the business location.
Now that Google is replacing one of the three remaining listings with an ad, local businesses are feeling even more pressure to start supplementing their local SEO efforts, with pay-per-click and organic SEO, to provide more well-rounded inbound marketing strategy.
Here's a mock-up that Barry Schwartz provided that shows what the new 3-pack might look like (please note this is not an official representation of how the ad will appear in search results):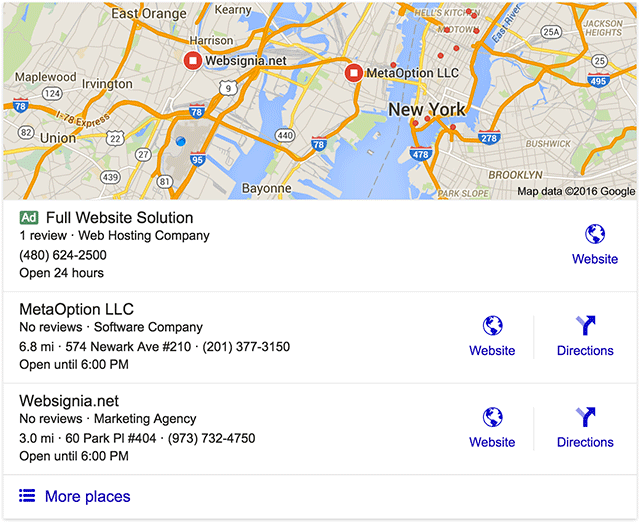 Which factors impact my local rankings?
Here are some ways for businesses to improve their chances of showing up in the top local pack results. Keep in mind, the majority of these factors are based on correlative evidence. There is no one trick pony to rank higher in the local packs – it's typically a combination of the following:
Get more positive customer reviews
Build quality, locally relevant backlinks
Create localized content (landing pages, blog posts, etc.)
Make sure your site is mobile-friendly
Don't use more than one address on your contact page